In the summer of 2010 I had the following dream. It felt significant but I didn't know what it meant. At the time we were in the process of selling my parents' house to the son of the neighbors across the road (Keith). My brothers and I were standing in the front yard of my parents' house. It felt like springtime, and the sky was a little overcast as if it might rain.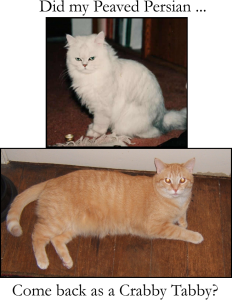 "Do you think Keith will let us dig some plants out of the back yard?" I asked. "We've been so busy cleaning out the house I haven't had time to do it. But I want to move some of Mom's garden to my yard."
"I doubt it," my brother John said.
"I doubt he would want them, "I said. "He is probably going to mow back there and then the plants will be all gone."
The dream changed and we were now in my brothers' old bedroom. This room was right inside the house from where we were standing in the yard. The atmosphere felt heavy and depressing. John leaned against the closet door. "Boy, I don't feel very good," he said.
Continue reading →